Finalist Miss Canada 2017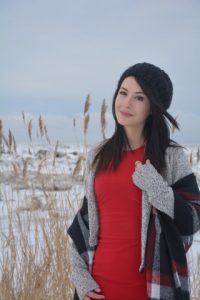 Audrey D
Hello,
I am a graduate in graphic design and I am currently finishing a certificate in human resources at the University of Quebec in Rimouski. My goal is to obtain a bachelor's degree in administration and, why not, a master's degree in people management in the workplace. In addition to my full-time job in graphic design in digital technology and my part-time studies at university, I also have a second job as a waitress in a restaurant. On occasion, I also realize some contracts in graphic design.
I am the happy and unique owner of a first home bought in 2017 and I take care of my father who has a degenerative disease and can no longer be alone.
Yes, I am a person who is very busy. I always have a project in mind and my motto of the moment is: if we want, we can!
Audrey
If you'd Elected: what you would realize
Why
vote

for me!
Miss Canada and Miss Teen Canada have been existing trademarks since 1946 and they are highly anticipated annually. These events advocate attitude and personality above all else. The candidates live a unforgettable and beautiful experience all in the spirit of camaraderie throughout the activities.