Finalist Miss Canada 2017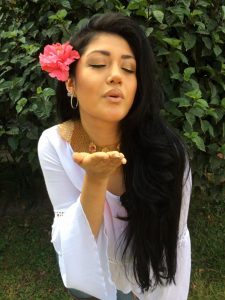 Maria-Alejandra L
Hello,
My name is Maria Alejandra. I am originally from Ecuador, South America. I am 21 years old, and I am currently studying Science at Brandon University, Manitoba. I have always been passionate for doing experiments, playing with mathematics, and exploring nature that is why I chose Science as my field of study. When I was little, I suffered from bullying.
This negative experience impelled me to fight against bullying so that this serious problem that affects many children is of interest to society. Having been a victim of bullying has helped me to become a strong, confident, and persevering person. My favorite hobbies are cooking, reading and dancing. I practice belly dance since I was 11 years old. Due to the profession of my dad, I have had the opportunity to visit fantastic places around the world.
Participating in the Miss Canada pageant will be a motivation to continue my fight against bullying. It is an honor for me to be part of the wonderful group of the finalist girls and thus be able to share our dreams.
Maria-Alejandra
If you'd Elected: what you would realize
Why
vote

for me!
Miss Canada and Miss Teen Canada have been existing trademarks since 1946 and they are highly anticipated annually. These events advocate attitude and personality above all else. The candidates live a unforgettable and beautiful experience all in the spirit of camaraderie throughout the activities.