Finalist Miss Canada 2017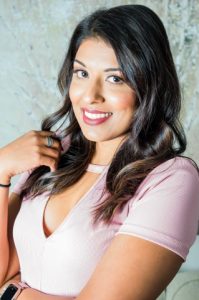 Sadhna P
Hello,
My name is Sadhna and I was born in Toronto, Ontario. My family and I moved shortly after to the small town of Whitby, Ontario.  Growing up in a smaller community outside Toronto, I have learned many valuable life lessons that has always taught me to see the good in others.
I am often described as an ambitious, dedicated, compassionate, and amicable individual. My passion for helping others has led me to pursue a career as a Registered Practical Nurse. I primarily work with individuals suffering from severe mental health disorders within both the forensic and general populations. Throughout my nursing career I have had many notable achievements such as earning my RPN Operating Room Certificate as well as having the opportunity to teach within Centennial College's School of Community and Health Studies. I am also currently working towards obtaining my Bachelor's of Allied Health Science Degree with a Minor in Forensic Psychology through the University of Ontario Institute of Technology. When I am not studying or working I enjoy living an active, balanced, and healthy lifestyle that I strive to share with those around me. You can find me at the gym, practising yoga, at my favourite coffee shop with my nose buried in a book, exploring new cultures through travel, as well as spending time with loved ones.
I have also enjoyed volunteering with many organizations such as St. John Ambulance as a Youth Leader/Non-Commissioned Officer throughout my adolescence, The Princess Margaret Hospital, and most recently The Shoebox Project within Durham Region. As a finalist for Miss Canada 2018, I aspire to use this platform to continue to advocate for mental health and addiction awareness.
Be Happy. Be Bright. Be You. -Kate Spade
Sadhna
If you'd Elected: what you would realize
Why
vote

for me!
If crowned Miss Canada 2018, I would like to bring to light the stigma that continues to surround Mental Health & Addictions within various ethnic & cultural groups. I would also like to educate communities across Canada about the importance of the Good Samaritan Drug Overdose Act ;as opioid overdoses has become a national public health crisis. I am passionate about helping others as well as promoting a positive outlook on Canadians mental and physical well-being.
Voting for me would mean that you're supporting someone who is ambitious, confident, & who always has your best interest at heart. I am grateful for your support. Thank you!
Miss Canada and Miss Teen Canada have been existing trademarks since 1946 and they are highly anticipated annually. These events advocate attitude and personality above all else. The candidates live a unforgettable and beautiful experience all in the spirit of camaraderie throughout the activities.