Hello,
My name is Ciara, I am from a beautiful small town called, Huntsville, in Ontario, and I am absolutely honoured to be a part of this wonderful experience.
A leader, strong-willed, compassionate, and silly are among the many characteristics that make me…well, me! I love animals, the summer, and spending time with those I love. My time is often spent writing, creating art, and finding the adventure in the everyday. I consider myself to be a humanist, and aim to offer a little bit of colour in this great blue world of ours.
I have recently obtained my Bachelor of Arts Honours Degree in Sociology, Minoring in Studio Fine Arts From Nipissing University. My interest in both human behaviour and human rights has always been prevalent in my life, and is something that I try very hard to implement on a day-to-day basis.
At the end of this past year, I developed a small organization that aims to brighten, even if only slightly, the lives of homeless individuals in Canada. Since moving to Toronto in August 2016, I have been continuously exposed to the horrifying reality of homelessness in Canada. Recently, I have been working with young women across the country to create gift packages full of items that are useful, and can bring a smile to the faces of the individuals receiving these gifts. I believe the most important thing in life is to use every means given to you to help others in any way possible, which is why I have chosen to participate in Miss Canada.
My goal is to utilize the platform given to me as a finalist of Miss Canada to inspire other individuals to spread positivity into the lives of others, and offer a helping hand wherever necessary. If human beings could collectively do one good deed for another individual every day, the world would be a much better place.
For beautiful eyes, look for the good in others; for beautiful lips, speak only words of kindness; and for poise, walk with the knowledge that you are never alone.
Ciara
Coronation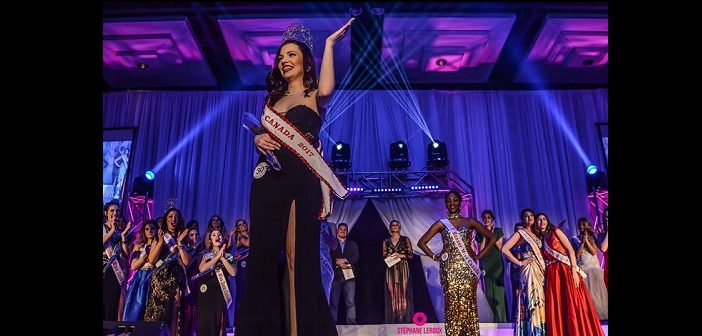 Huntsville's Ciara Thompson is Miss Canada 2017
When Ciara Thompson began entering pageants, she did it as a challenge to herself, as something to force her outside of her comfort zone. Her goal wasn't a crown, but on Saturday, March 4 in Montreal, much to her surprise, she earned one as the newest Miss Canada. After a few mishaps during the competition, she thought it was out of reach. She was wrong.
Pageants have moved far beyond the beauty component – Miss Canada judges look for charisma, intelligence and devotion to a cause that's important to the contestant. "They looked past (my mistakes) and saw that there was something genuine about me that they wanted to use as Miss Canada," said Thompson.
The day after she was crowned she wrote on her Facebook page, "I stumbled in my speech on stage and tripped down the stairs on my gown, and I thought I was for sure out of the competition at that point. I maintained composure until I got backstage and I cried and cried because all I wanted out of this whole thing was to do well on my speech and make my family proud. When my name was called as the winner, so much was going through my head, but the thing that stuck out the most was that even if you make mistakes and even if you think you've failed, smile, stand tall and keep pushing forward because you are always more of a winner than you think."
She said it's a message she plans to take to schools – public through high school – as part of an effort to help students increase their self-esteem. "I messed up in my final speech for the pageant and look where it got me. You'll make mistakes but don't let it ruin your outlook." Thompson also plans to use her platform to raise awareness about homelessness. She'll have a few duties as Miss Canada as well, but for now pageant organizers have told her to relax and let her win sink in.
One of her favourite moments of the competition came long before the gala evening. Miss Canada hopefuls went skating, wearing their sashes, and were approached by a young girl wearing a helmet with a crown molded onto it. "We took her skating and she said she wanted to wear the sash but then she started crying. When we asked why she was crying, she said, 'I don't only cry when I'm sad, I also cry when I'm very happy like right now.'" It was a small thing, but it made a little girl very happy.
"I do pageants to make a difference in people's lives. I hope to keep doing that throughout my reign."
Don't miss out on Doppler! Sign up for our free, twice-weekly newsletter here.
 he Miss Canada and Miss Teen Canada is the most anticipated annual event. This show is full of feel and excitement. Candidates are given a book to competition or personality is a must.