Finalist Miss Canada 2021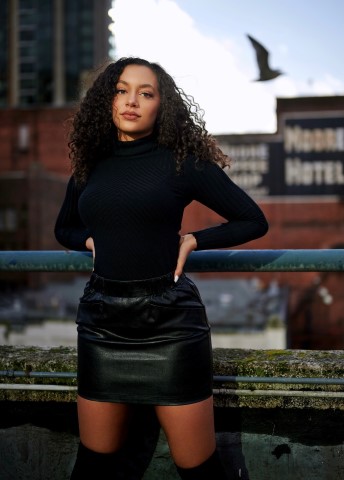 Madison T-S
Hello,
Madison comes from a diverse background and from her experiences believes authenticity is the key to being the best version of yourself that you can be. Empowering those around her has been in her make up since she was very young. Madison has been volunteering for twelve years and community service is a part of what has shaped her into who she is today.
It all started when Madison spent her youth living in Jamaica, she would donate food, blankets, and clothes to orphanages on the island. Her younger sister, Jada, who has special needs inspired her to volunteer for Variety the Children's Charity. Before the pandemic, she helped organize the telethon which raised 5.5 million dollars. Madison's volunteer work is expansive and all-encompassing. Last summer, she started a campaign #BlackEducationMatters to help youth across British Columbia be seen through their academic achievements. She wrote a formal letter to the BC Ministry of Education and organized a rally in Vancouver that garnered media attention. Now across the province, Madison is working with schools so that inclusion for all people of color is a priority.
Madison is a pre-med at the University of Washington and is on the Dean's List for her academia. She spends her time between Seattle and Vancouver as the campus is only an hour and a half from her home in White Rock, British Columbia.
If I were crowned Miss Canada, I would continue my volunteer work with children who have special needs. Furthermore, create a space for people of color in education. I plan to also set up a Zoom empowerment summit for young women to feel that they can achieve their dreams. I firmly believe that diversity isn't a weakness, but it is a strength and I want to make sure all voices are heard and acknowledged.
Madison
If you'd Elected: what you would realize
Why
vote

for me!
Miss Canada and Miss Teen Canada have been existing trademarks since 1946 and they are highly anticipated annually. These events advocate attitude and personality above all else. The candidates live a unforgettable and beautiful experience all in the spirit of camaraderie throughout the activities.