Finalist Miss Canada 2021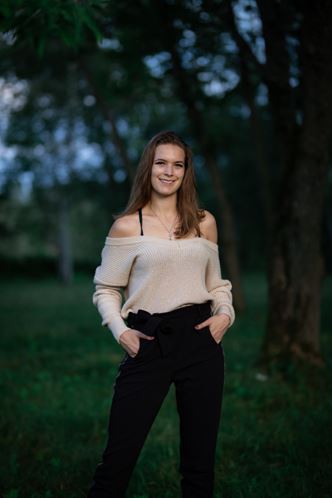 Marie Zoé L
Hello,
Marie Zoé is a bilingual Veterinarian Nurse residing in Candiac, Quebec. Marie Zoé immerses herself in many talents and passions for both animals and education, for she is aspiring to become a Veterinarian. Her love for animals transcends into her hobby of horseback riding. Marie Zoé is a Cavalier Four, the most prestigious level one can achieve in western horseback riding, which allowed her to teach horseback riding and training horses. She is also an avid dancer for over eighteen years, and specializes in ballet, contemporary, and salsa.
After completing her diploma in Health Sciences at Champlain College, Marie Zoé realized a gap in the educational system. Her self-created workshop teaches high school students the knowledge, resources, and self-reflection techniques to help them be successful in selecting their post-secondary major. In partnership with the University of Montreal and as Miss Canada 2021, Marie Zoé will teach thousands of Canadian students to be Empowered by Education.
Marie-Zoé
If you'd Elected: what you would realize
Why
vote

for me!
During the pandemic I created a 3-part online workshop to promote perseverance in young adults pursuing further post-secondary education. Through my own experience of applying for Vet School I realized the lack of knowledge of how to successfully apply for the program. Through my online workshop I was able to partner with the University of Montreal to provide students with this opportunity to learn about what they must do to achieve their educational about what they must do to achieve their educational and career goals. As Miss Canada 2021 I will continue utilize my personal experience and these workshops to bridge the gap and empower students across Canada to be Empowered by Education.
Whether or not you attend post-secondary school, education is involved in all our lives in some way, shape, or form. We should always be striving to learn more in our daily lives as this helps us grow and be great leaders in our jobs and communities. Voting for me allows me to help others discover who they are and what they want to be in order to develop their own personal and professional happiness. I thank you in advance for your vote and I look forward to continuing to spread this message with your support
Miss Canada and Miss Teen Canada have been existing trademarks since 1946 and they are highly anticipated annually. These events advocate attitude and personality above all else. The candidates live a unforgettable and beautiful experience all in the spirit of camaraderie throughout the activities.