Finalist Miss Canada 2021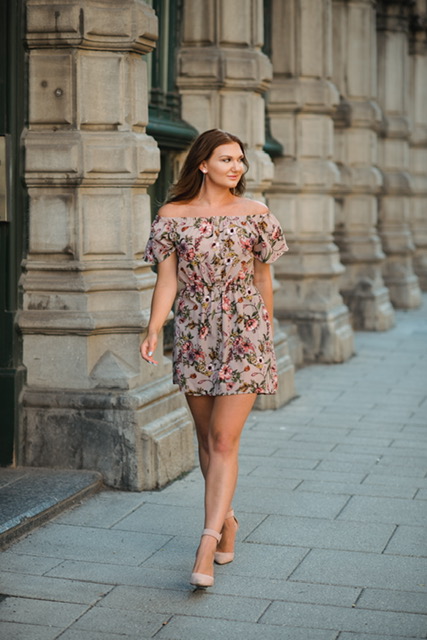 Valeriya T
Hello,
My name is Valeriya. I was born in Ukraine in the city of Dnepropetrovsk in January 2000. My family immigrated to Canada when I was 11 months old. I was growing up in a Canadian culture, without neglecting my true identity. To preserve my uniqueness I honor my background and culture. In order to master the language of my family, I have attended a Russian school every Saturday for 10 years. I am perfectly fluent in English, French and Russian and I understand Ukrainian and Spanish.
The need of being busy developed in my life at a very young age. Since childhood, I attended many activities and had many hobbies. After 4 years of figure skating, I discovered an interest for dancing. The interest soon became a passion and I continued to develop my skills in folk dances. Fitness became a hobby, a little later. I realized how important it is to exercise to see in the mirror the best version of myself. Fitness is not only about the result, but it is a lifestyle that develops discipline and endurance. That being said, the outcome matter as well and for better results I started to expand my knowledge of nutrition. The cherry on the top, is that I play the drums!
Growing up in a family of immigrants, I learned the importance of hard work. At the age of 19, I started to work as a summer student in a company of property management. I got promoted and now I occupy a position of building manger, which is uncommon for my age. Ambitions are just part of me. I plan to start university part time and get a degree in business administration to pursue my career in management.
I was raised in a Christian family and this has set some important values in my life. My parents taught me to live this life making the world a better place and to invest in kindness. Generosity became important for me. I am part of a charity ministry at a local church that is providing help to kids from the war zone in Ukraine, by supplying old and new clothes. As well, I am supporting the charity organization in Uganda that is taking care of the children left on the street.  The dream of travelling to Uganda and meet those that I am supporting, will soon become true. A missionary trip to this African country is being planned for next year. I have a special place in my heart for kids that are deprived of parents' love. I would like to create a charity foundation that is focused on the abandon kids all over the world that are in need of care, kindness, and love. One of my proudest accomplishments is an event that I organized along with the charity ministry of the church. The event held place in two hospitals of Montreal, where we could bring joy to the young patients of the institutions during Christmas season. We were giving presents in costumes of Disney characters.
Valeriya
If you'd Elected: what you would realize
Why
vote

for me!
The core values that are shaping my life are love, success, generosity, honesty and beauty. I believe that beauty has a significant influence on our society and this is why I am competing. Through pageantry I would like to become a role model for my generation and encourage young people to showcase beauty, the beauty of the soul.
Miss Canada and Miss Teen Canada have been existing trademarks since 1946 and they are highly anticipated annually. These events advocate attitude and personality above all else. The candidates live a unforgettable and beautiful experience all in the spirit of camaraderie throughout the activities.